Joined

Nov 4, 2021
Messages

38
Location
Hey all, figured I'd post this most recent build up for interest. Not quite a build thread as I've finished it for the most part, but it's interesting to me and maybe other folks are interested. Here she is on her first ride this past weekend: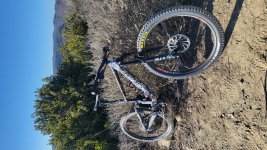 Goals of this build:
A real, real, electric mountain bike: I'm a pretty avid mountain biker here in SoCal, and I want something to shred downhill with me and keep up with my friends who bought eMTBs.
Big bike: I need decent suspension travel to handle the big hits, and a nice modern geometry for preference's sake.
Stealth battery: Partly for aesthetics, partly to avoid getting hassled - I want to avoid the battery hanging out in my frame like a big pimple. Needs to be as integrated as possible!
Power: I'm still looking to get a workout, but alllllsoooooo it'd be cool to have some power on tap when I want it...
Street cred: It's gotta talk the talk and walk the walk. It's gotta be a respectable build, to e-nerds AND mtb bros. I want to snap necks with any aspect of the build, whether it's the finish or the components or just the cool base bike.
Limited fab: While I can do a good amount of fabrication if needed, I just finished another fab-heavy project and I want to keep it minimal for simplicity (and the challenge).
What's next:
Over the next few posts, I'll zero in on some points of interest on this build with details and pictures. The purpose is to get folks to think about their own builds, feed the stoke, and gather feedback (love, hate, knowledge, ridicule). I want to give each subsequent post enough time and effort (similar to how much has been going on in my head), so I'll take my time with these and post over the next several days.
Finally, more pics:
in various states of completion, just things I think are cool to share.