Joined

Jul 26, 2009
Messages

82
Location
Earlier this week I sold my actionbent jetstream, the buyer wasn't interested in the Ebikekit setup so I pulled off the hardware and returned it to its native state. So what to do with a 20" front hub motor? Well I have a Giant Revive that's been in the que for a conversion so I'll guess I'll build it up.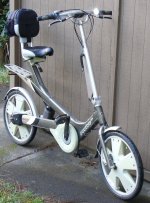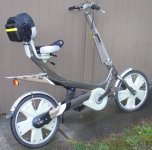 These are the before pictures, I plan on making a torque arm to bolt directly to the fork. The brakes on this bike are shimano band brakes and I will have to retro fit a V brake to the fork, the braise ons are already there to screw in the brake studs.
Batteries are going to be my universal adapted Bosch fatpack on the rear to balance the load, I plan on using 4 packs, The dash has a built in computer, it looks like a perfect place to mount a Cycle Analyst, unfortunately the ebikekit controller does not support it and I don't want to run a bunch of wires through the funky handlebars and stem.
In any case, the build shouldn't take too long and hope to have a completed project by this weekend.
Any suggestions are greatly appreciated
Greenerwheels