Joined

Feb 3, 2010
Messages

4,064
Greetings intrepid venturers
I am curious how many of you denizens have traveled 100+ miles on your electric steed.
It has been my goal to do so for quite some time – even with a regular bike.
Today I made it so.
8)
Starting in Redmond at essentially sea level , I took the Fall City-Redmond Road up past Snoqualmie Falls (where they filmed Twin Peaks), on past North Bend, and then I jumped on I-90 heading east and up to The Pass (
Snoqualmie Pass
), with a summit of 3022 ft (921 m).
Then I turned around and took I-90 back down into Issaquah, along the West Lake Sammamish Road, through Marymoor Park and back into Redmond for a total of 101.8 miles.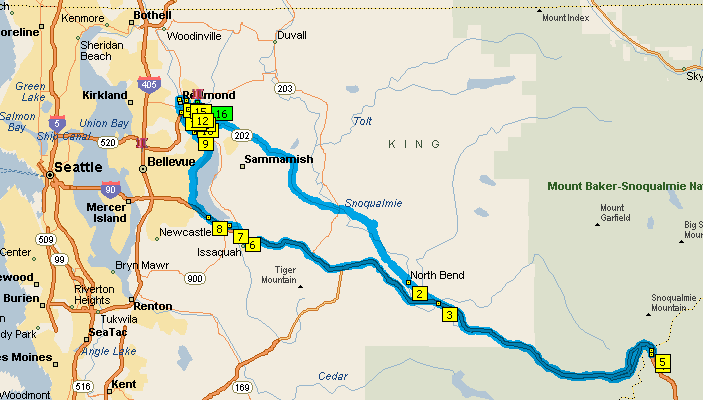 My CA Stats:

[pre]Date Length Ah Start V End V W-hr Wh-mi Regen %

05/15/10

101.8

42.38 41 36.5 1639.9 15.7 2.30%

R-Ah Fwd-Ah Amin Amax Vmin MaxS AveS Time

1.0085 43.397 -17.7 35.8 35.6 32.7 22.2 4:34:08[/pre]

EDIT:

Total Elevation Climb

= 4161 feet. Interesting bits:
I barely touched the throttle heading out; no pulsing – just for hills only. I figured I'd do my penance in the beginning when I was strong so that I could have power at the end when I'm fatigued.
By the time I reached I-90 I had already traveled 30 miles and climbed about 500 feet. I had only used 6.6Ahs.
Traveling on I-90 is an experience! It's legal to take bikes on this from Seattle all the way through the Dakotas. Though I do wish they would sweep the margins more often. The grade was very easy, and I found myself going between 26 to 28 mph at WOT UP HILL.
I made it to the summit in just over 45 miles using a little over 18Ahs. I was beside myself in Scottish glee; what thrift!
After resting for an hour I headed back down the hill looking forward to all that Regen. Unfortunately I had a headwind all the way down – which is probably why I did so well going up (as a beneficial tailwind).
Just before reaching Preston off I-90 my bike started acting really squirrely and I was hugely concerned that the front nuts were loosening so I pulled off in Preston and discovered I was in the midst of loosing pressure on the rear tire. Maybe it was elevation change; other than being old and slightly checked it looked fine. I put 50 lbs into it and got back on the freeway.
With about 7 miles to go before Redmond the bike returned to the squirrely state, and by the time I got it home the tire was pretty close to flat. Doesn't matter; I have a brand new spare.
Pictures:
The pass elevation sign is directly behind the exit sign. You can't see it in the pic but there is snow in the shade there as well. It was r e a l chilly in the slot-stream canyons heading down despite begin 69*F.
It is jaw-dropping beautiful up there! This view looks north.
Alpental
is just to the left in this pic.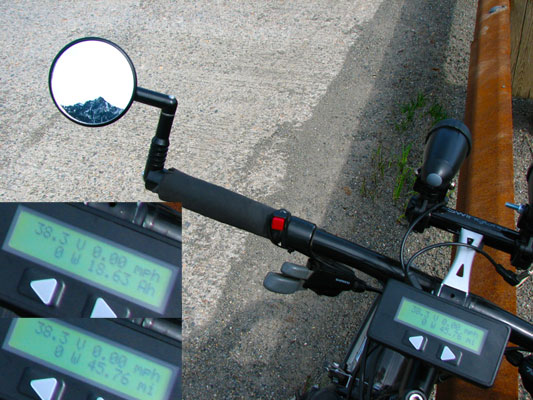 Here's my CA display at the top of the summit. I just couldn't believe how well I did.

Going downhill though I had to get on the throttle to beat the wind. Overall, I still used less power than I had budgeted. No complaints.
Enjoy,
KF
ADDENDUM: Battery pack was 10S10P LiPo.
ADDENDUM: ... using 20 Zippy's @ 5Ah each for a total of 50Ah.