I was looking for a mode of transportation that would work for me and that was available for me to try before buying. This led me to purchasing a 350W Michael Blast Greaser from a local power sport shop in July and when the weather was good enough for me to ride it was a great first electric. I want to boost it's abilities and make a fun commuter for inner-city as well as being able to ride to neighbouring towns and cities. Here is an overview of my project, all input is appreciated.
Requirements:
-Abide by Canadian Laws- rated 500W, >120kg bike weight
-Ability to reach 50km/h with 170lb driver
-Carry a passenger at 30km/h
-Minimum 50km range, would like to double or triple
Wants:
-Regenerative braking
-Integrated brake and signal lights, horn(s) (quiet for paths and loud for road)
-Improve suspension
Front fork suspension worth it?
Custom plunger shock unit attached to rear? (BMW R25)
Seat suspension?
-Improved aesthetics
Cafe racer seat attached with custom seat post
Custom fibreglass shells+faux tank for electronics/storage
Wiring a different display unit into existing electronics, such as: https://www.aliexpress.com/item/32851537129.html
Current Bike Specs:
Motor: BAFANG 350W Geared Brushless Rear Hub Electric Motor
Battery: Samsung Lithium Ion 36Volt13Ah
Propulsion: Pedal assist via 12 magnet cadence sensors with twist throttle
Gears: 5 speed motor assist with 7 speed Shimano Acera
Brakes: Tektro Hydraulic Auriga (180 mm front / 160 mm rear)
Controller: Control freak 18Ah
Trip Computer: LCD 5 speed display
Frame: A6061 Aluminum Tig welded
Fork: Double Down Chromolly / CNC Alu Made crown set
Stem and Handle bar: Promax Aluminium
Tires: Duro, Beach Bum 26'x 3.00, 15-36PSI
Weight capacity: 260 lbs (118 kg)
Product Weight: 63 lbs (28.6 kg)
Pictures: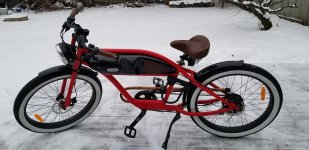 View attachment 2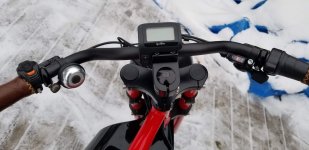 Other Notes:
I bought this bike because I was diagnosed with a disease similar to MS and didn't feel safe driving a car anymore. Originally I was looking for a scooter with a motorcycle aesthetic but the Greaser was a better fit and in my price range at the time, it's been great to ride around town. I can't do the metal work so I'll be talking to local fabricators, however I do enjoy making and I will try my hand at the fibreglass. I also own a 3d printer for producing plastic parts up to 200mm³.
Update 29/12/19:
I'm going to break up this project into three parts: integrated signals/headlight, seat+shell, and system upgrade. Working through these in order will let me budget for the motor and battery while still making progress on the looks, storage, and safety.
Update 03/01/20:
Really liked the simple spring suspension for the seat from:
https://endless-sphere.com/forums/viewtopic.php?f=6&t=92640
, implemented it into my own plan.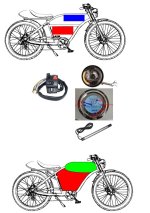 Planned System Upgrade:
Motor: GMAC10T
Controller: Baserunner
Batteries: Hailong jumbo case 14S6P, Hailong case 14S5P