Joined

Jan 7, 2019
Messages

258
Nice wheel! Where's the rest of it!
My latest build is a lightweight short range eMTB. I live very close to a hill with approx 300m vertical climb, and some great rocky trails for going downhill. You have to lift the bike over fences in places, so I wanted something light, mid drive for climbing and not too powerful so I could get away with a small battery.
This way I can do one climb up the hill at lunchtime, fang it back down at high speed and then back home for the next zoom meeting.
Enter a cheap used bafang Bbs01 (15A, 750W) and a 13s1P (yes just 1p!) VTC6A 21700 home made pack, for a 4AH battery. Works fine, both motor and battery get warm after a long climb using throttle but not too bad. The PAS is fine if a little slow to disengage. I reused an old battery charger case and stuffed the battery packs plus a 13s BMS in there, some might recognise it…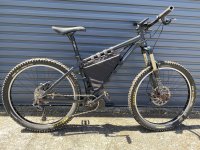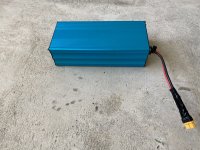 last pic is of the battery mid build, it was extensively taped up with rigid plastic covering all electrodes and then foam taped in place inside the box so nothing rattles or moves. not great for heat dissipation but oh well.