Joined

May 6, 2009
Messages

614
Location
This thread is to document my R&D efforts surrounding the Texas Instruments (TI) BQ76PL536A battery management IC. After following the thread matterrr started about the BQ76PL536A Arduino shield he put together, I started looking into it myself. Since the chips themselves aren't super cheap and the eval board is hundreds of dollars, I put together an Arduino shield with a single IC on it for development work. Is anybody interested in one for their own entertainment? I'll initially sell them basically at cost, ready to through on an arduino and start experimenting. It's not suitable to put on a bike yet and I left most of the filter caps off the design to keep it simple (so it will likely not work at the full rated speed), but I'd like to eventually have an open source, arduino compatible BMS come out of it. I did include balancing fets and resistors.
Thoughts?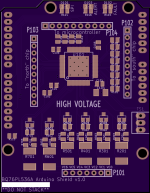 [EDIT] Schematics and other relevant files here: https://github.com/dmwahl/BQ76PL536A-Arduino-Development-Shield
Current status of the project
here
.