Joined

Sep 8, 2019
Messages

343
Location
Was searching for a donor bike to electrify and serendipity struck, this A2B showed up in the local listings missing all the batteries, but otherwise in good shaped. I
love
the styling on this and it was "new" to me. Picked it up for $340.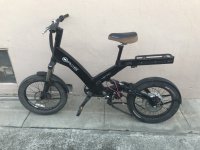 Trawling these here forums has been very helpful in figuring out where to take this bike.
(Frustrating that so many old photos have been lost to time.)
First, tore it down and cleaned it up: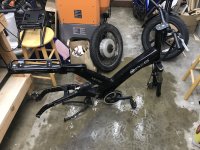 Since the bike is something like 15 years old, and the design has passed between a few companies there's absolutely no parts around anymore -- gonna be a
very
DIY project. Good thing I own a CNC machine and 3d printer.
First I'm going to tackle the internal battery to build a replacement. I'll be going "easy mode" -- instead of trying to stuff a 60 cell 18650 setup in there (which is what it originally shipped with), I'm going to go with a 20s2p 72v 21700 setup. While that'll only net me 10Ah of capacity, I plan to supplement that later on with a rear battery.
Here's what I've got so far:
Mapped out some 2170 cells along a path that I think should fit --
really
wish I had an original battery to take some detailed measurements from -- or, better, a CAD model of the original. Anybody, uh, happen to know some of the OG A2B engineers that could
accidentally
email that to me?

Add a box and subtract the shape out to get a cell holder:

Since I'm 3d printing this, I decided to lop off the top/bottom so it'll print flat:

Sliced into 3 parts to fit on the printer and setup for going: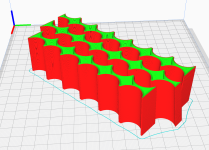 ----
I'd like to be able to jam along at a comfortable 35mph, which is why I'm going 72v -- plus I have a few other 72v PEV's around, so it's nice to have less "what charger do I use?" hassles
If you have any good recommendations for what motor to pair this with, I'm all ears. I'm currently leaning towards a "GMAC 8T" paired with a Phaserunner and that
should net me 35+
. (Yeah, it says 32, but the simulator doesn't account for FOC which should get me that extra bit.)