Joined

May 21, 2018
Messages

189
Location
Um… hello. I'm imagining this post will become the introduction for what will eventually become a mega-thread over the next several years so I feel some pressure to make it a good one.
I've been tinkering with adding solar charging to an ebike for a little over 10 years. The goal has always been to add enough solar power to the bike to offset the additional weight of the motor, batteries and solar panel while extending the range compared to a fully loaded touring bike without electric assist.
This is [strike]easy[/strike] moderately difficult to do if you cherry pick your riding days and only count cloudless summer days. But on a long distance bike tour you don't have the luxury of being a fair weather rider so this equation needs to include foggy, cloudy and rainy days as well. In other words, my average day on a long distance tour needs to be better than riding a bike without all that extra weight and clutter. An ebike with a dead battery is no fun. I think I'm close to accomplishing that goal.
Here's the penultimate prototype: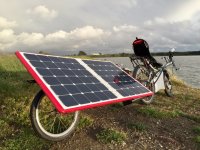 And here's what's on the drawing board: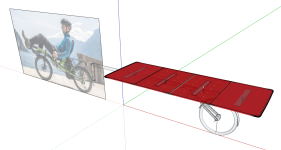 What about the "around the world" part? Right. Almost forgot. I'm building this crazy contraption so I can take the ultimate victory lap when it's ready:
head west and keep going until I return to my starting point
and/or meet myself. Whichever comes first.
I've posted a
brief history in pictures
of this project on my blog. There are a few photos up on
Instagram
and a couple of short videos on
YouTube
. I expect to have more content for a non-technical audience once I'm posting from the road. In the meantime, I figure this is the best place to discuss all the nitty gritty technical details.
Cheers,
Mark
PS: There's an in-depth video coming soon to the
Grin YouTube channel
so subscribe now to get a notification when it comes out.
UPDATE: The video is now available here: https://www.youtube.com/watch?v=7RGBBNctWNA
UPDATE 2: If you're here because you're thinking about adding solar to your own ebike, start by reading
How to convert your ebike to a solar ebike
. It's my synopsis of lessons learned (as of August 2020) with hardware recommendations and solar panel sizing tips.