Joined

Sep 11, 2010
Messages

7,807
Location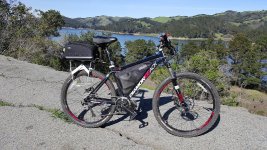 Here's the photo album for this bike: https://goo.gl/photos/Swc4DiKoYkypqLhw9
Hi folks. I've been keeping busy since retiring, and recently built another ebike, my first mid drive. For this project I selected the BBSHD to install in a 2016 Diamondback hardtail mountain bike. I call it the "RidgeRunner" because several of my initial trips with this bike were partly on ridge trails, and it worked so well there. It seems to be in its element when climbing.
The triangle pack is 14S8P of Samsung 18650 type 26f cells yielding 52V 20AH, the BBSHD has the Eclipse chainring and 3mm spacer, all from Lunacycle. Brakes are Tektro Dorado hydraulic eBrake 203mm with Bafang plugs from EMPowered Cycles. Rack and trunk are Topeak, seat is Bell Recline from Amazon. Charger is Satiator from Ebikes.ca. Water is San Pablo Reservoir from recent rains. Most of the rest is stock equipment on this 2016 Diamondback Overdrive Sport 27.5 medium.
I made a conformal spacer of Loctite epoxy putty to spread forces between the motor and protect the downtube, in an effort to avoid the damage that some have experienced if the motor works loose.
A few days ago I added a Batt-man to the setup to get better range anxiety management. Range is 25-50 miles depending on speed and terrain.
This machine climbs like a mountain goat. Without getting hubmotor hot.
More information in this complete article:
DIY Mid Drive for Street and Trail
(note the image error comments below are old and the errors have been fixed)
(note that Diamondback made a bike called the Ridge Runner in 1983, which I just discovered in 2019. Unfortunate name collision.)