Joined

Aug 7, 2009
Messages

4,172
Location
Hi All,
So I will be convering my wife's step-through Dutch bike (aka tall person's bike) to electric. She's got an electric ladies bike but doesn't ride it much as its not exactly a sturdy machine for longer trips. The Gazelle frame always suited her as she's quite tall, but it was never an electric bike. It's got a hopelessly inefficient gear hub in the rear which I might just replace with a single speed set for a comfortable cadence.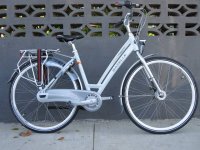 Now that we live in the Perth hills, an e-bike is kind of essential for travelling further than the local market, so I'm aiming for a 500 W direct drive hub motor in the back with a frame mounted battery pack. I might mount the speed controller behind the seat or something.
Direct drive is essential as we need to take advantage of the regen braking. These bikes had brakes which were painted on, presumably because they never went faster than 20 km/h on flat ground. I don't think the front brake is all that flash, so I might try and see if there's a better option on the market.
I bought about 50-odd Molicells for testing. They're an honest 4 Ah, and 3.7 V with litle sag. I'm building a 48 volt, 17 Ah, (14s,4p) pack using the same capture plate method I used for the Prelude battery build. 0.9 mm thick copper busbars jetcut with nickel tabs soldered to them will make assembly easy, and they should be capable of sustaining 80 amps continuous (5C). Which is quite likely given the 10 km, 250 m elevation gain at the end of the day. She'll probably need to charge the bike at work, but that's no big deal - I want to make the battery as easy as possble to remove and charge remotely.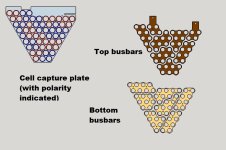 The machined polycarbonate plates have provision for copper busbars to be folded inwards and terminated internally using 8 AWG (13 mm2) wire and lugs, while a sandwich of FR4 and thermal epoxy will finish the outside. I might 3-D print some brackets which allow me to drop it right into the frame vee without too much fuss. Maybe something as simple as a strap to hold it down?
The current path is a bit convoluted, but the least-worst arrangement I can devise given the shape.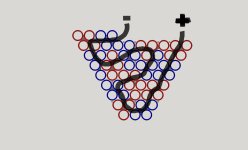 Will keep you posted!
Chris