Joined

Dec 20, 2018
Messages

51
hello folks,
I am working from sometime on Vesc based motor controller which can do 150volt and 600Amps at phase and 300 amps from battery. I am posting Schematics and features are as follows. Please have a look at them and Guide me if I am doing any thing wrong.
1.130v operation (150volt Mosfet ).
2. 600 phase amps and 300 battery amps (TO-247 x 4 FETS per leg Total 24 Mosfets).
3. PWM overlap elimination ( From PaltaTech/Axiom controller).
4. overcurrent latching protection ( From PaltaTech/Axiom controller).
5. HASS 600s or HASS 400s isolated openloop hall effect current sensor.
6. Separate brain board and power stage (for more flexibility).
7. isolated low propagation delay Mosfet drivers (ucc21520).
8. isolated DC-DC (from battery pack to controller).
9. liquid cooled casing for better heat dissipation.
View attachment schematics.pdf
Here is Power Stage.
View attachment power stage.pdf
Ignore the DC - DC converter in 3d image as I can't find model for it.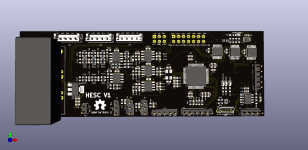 Here is layout of top and bottom layer.