Current Configuration
(09-23-23) of my e-bike:
Motor:
Previous:
MXUS 1000W slow wind 9C clone, 26" generic rim
Current:
Leaf 1500W 5T, 24" Halo SAS rim
Controller:
Previous:
18 FET KT 30A Sine Wave
18 FET 7kW PowerVelocity controller
Current:
No name "80A" Sine Wave w/3-speed switch, cruise; shunt mod to 91A
Display:
Previous:
KT-LCD3
Current;
Cycle Analyst 3.2
Battery:
Previous:
14S8P 30A 20Ah, UPP hard cased triangle, generic cells
Current:
Series packs:
Pack A - 14S8P 40A/80A 28Ah, UPP hard cased triangle, Samsung 35E
Pack B - 6S15C 24Ah, (3 x 6S 15C 8Ah) Lipo
Frame:
Previous;
Yokota chromoly
Current:
Cove Stiffee aluminum
Fork:
Previous:
Specialized 80mm travel
Fox Talas 160mm travel
Current:
Fox Vanilla 160mm travel
Brakes:
Previous:
Shimano side pull
Avid BB7
Current:
Tektro knockoff 4 piston hydraulic (Meroca M4), 203mm front, 203mm rear
Tires:
Previous:
Numerous
Slick road tire
Forté Tsali 26x2.2
Schwalbe Crazy Bobs 26x2.4
Goma TNT 26x2.4
Arrow Racing Prime Bite 24x2.75
Mongoose Fat Tire 24x2.8/3
CST Fringe front 24x2.8
Current:
Specialized Big Roller rear 24x2.8, CST Fringe front 24x2.8
Seatpost:
Generic pogo stick suspension
Current:
Thudbuster LT
Seat:
WTB Rocket
WTB Pure
Current:
Cloud 9 medium
Planned upgrades:
Torque sensing BB
Hub heat sink mod
Thoughts on Initial Build:
12-29-18
I'm really loving my economy e-bike conversion. I wasn't sure at the onset whether I'd like the e-bike thing, so I decided to go with an economy build, but decent enough to give it a good chance. I started with the least expensive (i.e. cheapest) 1000 watt, 48 volt, rear hub kit that I could find on e-bay. Actually it wasn't the cheapest, since that one would have taken too long to deliver, but at $144, it was pretty cheap. The motor I received was a MXUS (XF 40 1000W 1610 0020 stamped on the side cover). Looked good, spokes were all tight, rim straight, etc. I knew I wanted the bike to be silent, so I bought an 18 FET sinewave KT controller, and KT-LCD3 display and chucked the kit controller. For the battery, I decided to go with something with decent capacity, and 52 volts for a little extra power; ordered a UPP 52 volt 20 Ah triangle pack in a hard plastic case (cheap Chinese cell version).
The donor bike was my first steel framed mountain bike, which I had upgraded about 25 years ago with a suspension fork (when they first started getting popular). The original brakes were cantilevers, but I upgraded to v-brakes when I converted the bike for street riding, after getting a full suspension mountain bike.
The parts arrived, and everything went together pretty easily. I only used the brake levers, throttle (switched out later) and PAS sensor from the original kit, and everything else went into my parts bin. I charged the battery for a couple of hours, not nearly to capacity, but since I was anxious to test it out, decided to head out for a short test ride, cables hanging all over and controller held in place with duct tape. My driveway slopes upwards to the street, and as I started to pedal up, I twisted the throttle, and the bike wheelied right way, but fortunately came down straight as I zipped out onto the street. Big smile; I could tell this was going to be fun!
I rode down the hill to a walking/biking trail for my first short ride. The bike got up to 24 mph on the flat paved trail, no pedaling. I was expecting more, given the 52 volt battery and upgraded controller, but wasn't too disappointed. I ended up riding about 4 miles out, then back, smiling all of the way. Then I came to the hill up to my house. 5% grade at the bottom, 6% for the last 3 blocks. The bike zipped up the hill effortlessly.
Posted a few messages on the forum, asking about the top speed, since I had been reading a lot and watching YouTube video, so I was expecting to get 30 mph. Found out that my motor has a slower wind, but since 20 mph or so felt good, didn't sweat it.
The issue I noticed right off was that the PAS, even on level 1, had the motor contributing more that I wanted. My single front chainring (I chucked the other two and the derailleur when I had converted the bike for street use) was 36T, with 13-34 cogs on the rear. I ordered a 40T and 46T so that I could dial in the bike for a comfortable cadence at 20 mph. 46T worked out perfectly, allowing me to pedal and keep the motor pulling 250 watts at 20 mph, and me making up the difference at level 1, with 46:13 gearing. I could either downshift or up the PAS level if I needed more motor on hills.
Now to what I love about my econo-e-bike setup.
First, the range is great. By my calculations, with the above levels of contribution, the range should be about 80 miles. That's assuming I consider the battery empty at 47 volts. This seems to be consistent with the real world, since I did a 48 mile ride and the battery settled to around 50.5 volts when I got home (charged to 57 volts at the start).
The second thing I really like is how the motor pulls off the line at an intersection. I apply a little throttle while pedaling lightly, since too much pedal and throttle and the front wheel gets light or pops off the ground. I usually forget to downshift for an intersection, but I can zip across the intersection starting in high gear without a problem.
The third thing I like is the regen. At first I was only using level 1 for regen, which works great for charging, but without much braking. But on level 2, it's noticeable, and since I live on a hill and ride mostly on the hills, the extra braking power is great.
The fourth, and best thing I like about my bike is the hill climbing power. After several rides, I've found that it's not the motor that is the limiting factor for my, but traction. On pavement, 15%-20% segments of road aren't a problem. I pedal a lot, which I like, but the motor never has fallen short or let me down. Everything has stayed cool so far, too. Until I replaced my slicks with some 2.2 trail tires (not full on MTB knobbies), I wasn't able to make it up 20% grade loose dirty/rutty trails, but after switching over, the bike made it up a 400ft section with a 25% grade. I didn't think it would, but when I crested the hill, I was amazed and overjoyed. I love it. Of course the power is pegged at 2000 watts, the highest the display will read, under those conditions. I'm glad I opted for the 18 FET controller!
I've been climbing every hill I could find within a 15 mile radius of my house, on my side of the bay, which is probably all of them. There's on mountain, 3800 ft, but that's about 20 miles from my house, but a lot further, not using highways, by bike. Since all my rides start out basically at sea level, anywhere I go usually includes a climb. I love this economy e-bike!!!
This is the hill behind my house; actually the hillside. The top of the hill is about 700 ft elevation, but this is partway down at about 500 ft. I never cared to ride this trail when I was more into mountain biking, since there lots of real mountains to choose from, but it turned out to be a hidden gem, with some really steep trails, that the bike eat up.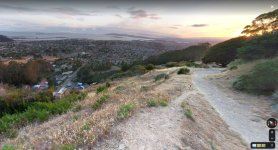 Google Maps
This doesn't really qualify as a hill, but I rode 48 miles this day. This is a shot from Yerba Buena Island, in the middle of San Francisco Bay. This half of the Bay Bridge has a walking/biking path from my side to the island. My house is on the side of the hill in the far distance. This spot is only about 200 ft elevation, but I rode up over the top of the island, 250 ft, to go over to the other side of the island. Actually, Yerba Buena is a real island, and the other side, Treasure Island, is man-made, built for the 1939 World's Fair. There still a Naval facility there, but they're tearing up the island to build a multi-billion dollar housing complex for the rich. Unobstructed panoramic view of SF and both bridges from that side. I was still testing the 40T chainring on this ride...too small.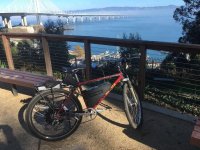 This is a funny little hill down the street. Funny because it just juts up above basically flat land all around it, down near the bay. I looked it up, and it something to do with the many geological plates in the area, cramming together to form a hill. There's a lot of plates and faults here in earthquake country, and my house is very close to a major one (I have lots of disaster supplies in my backyard, ready for the BIG ONE). 300 ft at the top, riding up a few steep streets, and a nice steep single track trail down the other side. If you squint, you can see one of the towers of the Golden Gate. First ride with the 46T chainring. Perfectly dialed in now.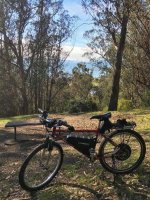 Find local businesses, view maps and get driving directions in Google Maps.
www.google.com
Here's what the funny hill looks like from the inland side.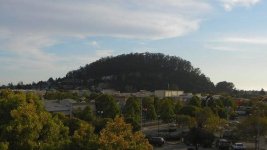 This is the trail on the other side of the hill from my house. I ride downhill from my house and over a couple of miles to one of the trail heads. Then ride up about 1000 ft, take a loop trail back down, then back up another 600 ft or so to the top of the hill behind my house, so I can ride down to my house. This shot is from the top, above the 20% hill that I couldn't make it up with my slicks. Still, there were plenty of 12%-17% segments that the bike had no problem with. The sinewave controller came in handy on this ride, since there were a couple of places on the trail where herds of cattle were hanging out. I rode between cows, about a foot on either side of me, and they just looked at me while chewing on grass. The e-bike is totally silent; the only noise was my huffing and puffing.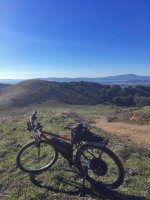 Find local businesses, view maps and get driving directions in Google Maps.
www.google.com
This is the last hill I've found so far on my side of the bay. Similar to the other funny hill, this one also jut up near the shoreline, about 10 miles from my house. This was my first ride on my new knobbies. I told my wife I was going around the block a few times to test my tires, but then the e-bike just decided to go further on its own. Got home 35 miles later. This shot at the top of the hill is at 350 ft.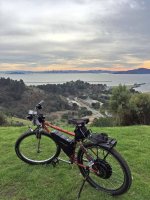 Find local businesses, view maps and get driving directions in Google Maps.
www.google.com
I saw that there were a bunch of trails leading down from here, when looking at Google Maps before my ride. I decided to descend this trail, but didn't realize there was a 25% drop off right where the bushes start. Even with the knobbies, the wheels were skidding and locking up. I decided that descending on anything steeper might be a little iffy, with the extra 30 lbs of e-bike and v-brakes. I stopped at the bluff in the background to reassess, when I saw that both trails that forked off were much steeper than the one I came down, so I turned around. I really didn't think the bike would be successful going up, but the tires gripped and 400 feet later, I crested the steep section. Wow, I love this bike!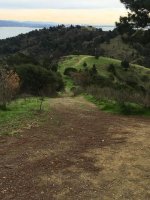 After I got home, I checked what the grade was on those two trails. One was about 30%, but the steeper one was a 50% grade! I'll leave those for another day, if I ever decide to put on some beefier tires.
I'm going to build another bike for offroad, with a mid-drive for better hill climbing, within the next year or so. I'm already acquiring parts. Of course there's always trade-offs when building something more narrow in scope. But, right now I'm really enjoying this combination of long range, silent riding, and decent climbing that I have now.
Thanks for reading, and for all of the help I've received on this forum!

Last edited: