Want to build solderless pack and need some opinions.
Basically ANR26650M1 cells are sitting inside orange enclosures 10 in parallel.
Together the pack will be 32s10p.
Connections will be made with 0,5mm thick copper like in this image but 10 in parallel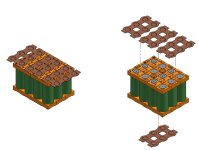 .
There will be rubber rings in each cell top and plexiglass on top. Then everything is bolted together with m4 long thread in each battery.
Attached is also how the turn will be when two packs are sitting in top of each other.
Also final size of 34s9p (will change this to 34s10p instead), together 23Ah but capable around 60kw bursts. Weight with bms and everything should be around 32kg.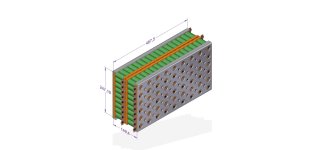 I already made a sample copper and using 3d printed tool to deepen it. Made a measurement error and copper is a little bit short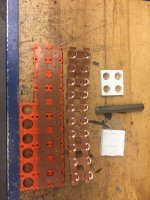 Question is: are these connections capable of 600A in burst and 300A continious? 0,5mm thick copper and 1cm wide for each cell should do 0,5mm2 and 10 of these should do 50mm2.
Also copper is pressed against battery with enough force (rubber ring between copper and plexiglass), so that should be enough, as right now I'm using 35mm2 wire in my kart and thats ok.