Joined

Apr 13, 2009
Messages

1,999
Location
Well it's hard to believe, but it's been four years since I built an e-bike for myself.
Of course I've been tuning and modifying my current ride during that time and even completely reconfigured the drive system, but it's time to get my hands dirty again and build what I hope will be the best e-bike I've ever built.
It's no secret that I am a fan of Bike Es for conversion candidates to e-bikes. I use my current one regularly and absolutely love it. There are only a couple of complaints that I have with it.
First, there is no rear suspension and you can really notice it on bumps & holes. Lately I've been running my tires at the lowest pressure I can and that helps a lot, but not as much as I think a good rear shock would.
The only other complaint I guess I have about it is that my current Bike E looks pretty weathered and old. Also, because of some of the things I've done to it since I've made it electric there are a few holes here and there in the frame that don't really belong there. It never really bothered me as this bike was given to me for free and wasn't in great shape to begin with. I learned a TON on this bike. I've since converted two other Bike Es to electric, one for my fiancee' and one for a friend. All three of them were the non-suspension CT models of the Bike E.
For awhile now, I've been on the look out for a rear suspension model of the Bike E (designation AT), but I was pretty specific about the one that I wanted. I wanted it in silver (because that's my favorite color for bikes), I wanted the taller "sweet seat" that was an option on some Bike Es, I wanted an XL frame (it has a four inch longer wheel base which puts more weight between the wheels and leaves more room on the frame for putting "stuff", and I wanted one of the earlier models that didn't have the tail end cut off because I need a place to put a battery or at least a good rear bag.
Around the beginning of this month I really started getting serious about trying to find one. I started looking on a Craigslist aggregator site and started looking for Bike Es within a 1000 miles of where I am. The first time I did that search, I found the exact model and specifications I was looking for 400 miles away in Olympia, WA.
After contacting the seller to confirm that the Bike E was an XL I definitely wanted the bike, but I didn't want to have to go to Olympia to pick it up and the seller had no interest in delivering it to me. He did seem pretty open to some negotiating though. After posting on E-S looking for someone near Olympia to help me pack the bike up, dnmun suggested I check the Craigslist rideshare for someone traveling the I-5 from Seattle to some point south of me and see if they would bring the bike to me. This seemed like it could have some trust issues associated with the plan, but I decided to give it a shot.
Sure enough, I found someone with a large van traveling from Seattle to the Bay and they were willing to pick up the bike and bring it to me. Now I needed to figure out how I could trust the guy with the van to actually bring it to me after he picked it up and how to pay the seller. The seller of the bike was an elderly gentleman with no Paypal account or any interest in getting one and I didn't want to pay the high wire transfer fees. Finally the seller was just like, "Put a check in the mail, I trust you." Keep in mind there was no way he would get the check before the "guy in the van" would be picking up the bike. :wink:
I was able to explain to the van guy that there were some concerns about trust. The seller was also concerned that if the van guy took off with the bike, I would cancel my check. This was getting complicated.

Finally the van guy said he would pay the seller for part of the bike in cash when he picked it up and I could reimburse him and pay him his delivery fee when he delivered the bike. His share in the bike still wasn't what the bike was worth, but it made everybody feel better about the deal that he was willing to put out some cash upfront.
Well, it took a week of phone calls, texts, e-mails, and a fair bit of stress, but the bike arrived safely.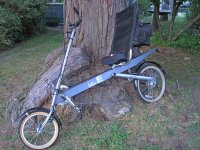 Now that I have it, the question is, "What do I do with it?"
I have been mostly happy with the performance of the 8T Mac that I have on my current Bike E, but there are a couple of hills around here that I still have to work pretty hard to get up. Maybe I should go 48V with the MAC instead of the 36V I'm running now. I like keeping the max speed around the legal e-bike speed so I might need to go with a slower wind if I go that route. Then I wonder if I've really gained anything. I don't know. All my previous bikes have been 36V.
I would love to put a Bafang drive on it with a Nuvinci N360 in the rear, but I don't think there is going to be a good way to make the Bafang work with the Bike Es bottom bracket. Maybe I'm wrong though. Thoughts?