Joined

Jun 27, 2011
Messages

3,409
Location
This winter I'll try to build a triple stator axial flux motor for my 'wheelchair' (what my GF calls the recumbent
)
It's basically v2 of the motor shown here:
http://endless-sphere.com/forums/viewtopic.php?f=30&t=30061&p=434496#p434496
This motor is on my daily commuter, has done 2000 km and, through the ice, snow
and rain, has not let me down. Power is about 1 kW, delivered straight to the rear wheel.
The plan for the wheelchair is to use the motor to drive the cranks and to have full
benefit of the bikes gears. Power will be around 1.5 to 2 kW. The motor will cool
itself when it spins, this works really well in v1 and will be improved a little bit for v2.
Hopefully it'll be able to deliver 1.5kW continuously...
It's not really difficult to build a motor like this and you don't need any special tools
or anything like that. What you need is access to the basic materials and to be able
to drill and saw accurately (like what they tought you in kindergarten).
Main tools I use for this build (just to show that you too can do this
) :
View attachment 5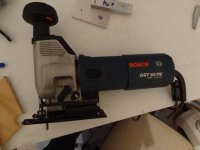 The raw materials: