So the build is finally nearing completion!
I first joined this forum in June of 2010, spent ~4 months reading about eBikes constantly, and asking stupid questions ( thank you dogman, mwkeefer, and all others that were helpful.. ).. spent another 3 months trying to get the right frame for the job and discovering what was good and what wasn't ( went through 5 different bikes, literally ).. and another 3 months doing the rest.
This is the product of a lot of trial and error, wasted money, blazing forward even when people told me it was a bad idea, and finding what works for me the best.
Weight, elegance, hill climbing ability, and the ability to pedal and freewheel was paramount to this build. I wanted to be able to add all my human power into the equation, in order to get a workout, so i went with a MAC geared motor and lipo batteries as they fit the bill.
So i present to you.. my creation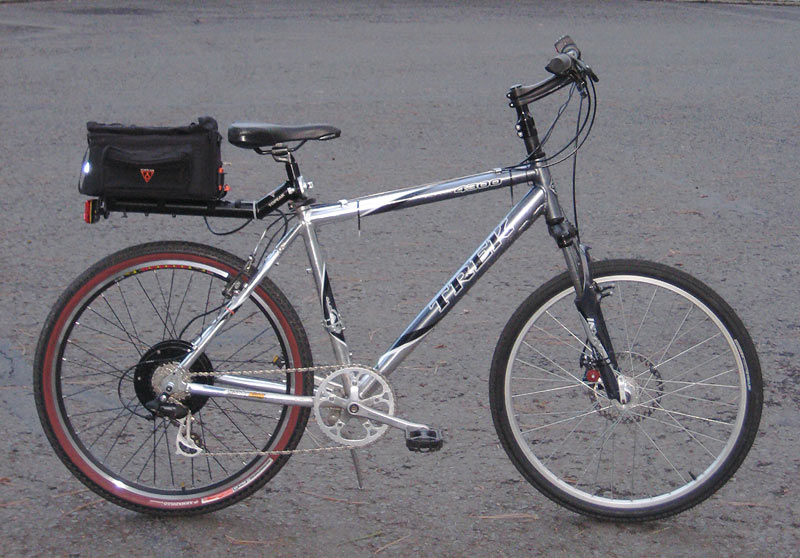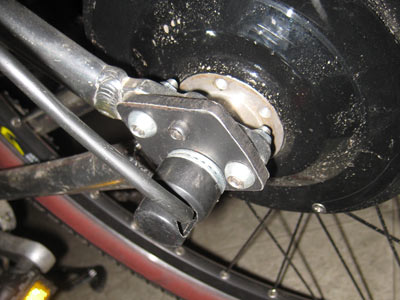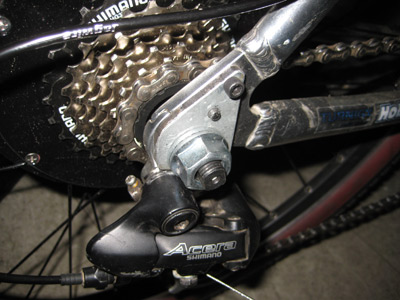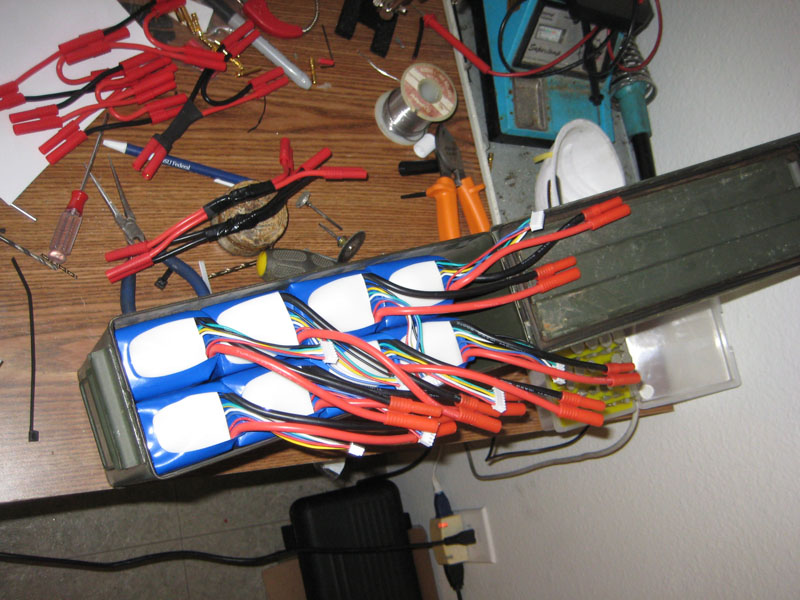 Bicycle:
Mid 2000's Trek 4300 MTB.
48t front chainring, single gear.
13t-28t 7 speed freewheel.
Avid BB7 180mm front disc.
Tektro 160mm rear disc.
RST Suspension fork.
1.95" Armadillo puncture-proof tire in the rear.
1.75" Forte tire on the front.
Electrics:
Mac "500w" motor from cell_man
Infineon 30a 9fet controller ( turnigy watt meter says it peaks at 38a but i don't believe it )
Standard issue thumb throttle.
2x 5ah 5s 20c lipos for the small pack, so 37v 5ah.
8x 5ah 5s 20c lipos for the long haul pack, so 37v 20ah.
Turnigy watt meter, and 2x celllog 8s for monitoring cells & beeping at me if one goes too low.
iCharger 1010b+ for charging all the cells in their serial configuration.
15.8ah junky radioshack power supply, paid $30 for it used.
Other:
Topeak MTX rack for the rear ( will eventually switch out for mid-frame mounted 30 caliber ammo can )
~1/4 in. Torque plates courtesy of li-ghtcycle ( thanks dude!!! )
Speed:
10s ( 37v )
25-26mph not pedaling on flat ground.
26-28mph pedaling on flat ground.
15-18mph on a 5% grade, pedaling.
14s ( 52v )
29-31mph not pedaling, flat ground.
32-33mph pedaling, flat ground.
18-25mph on a 5% grade, pedaling.
14S run, with pedaling. Notice that i ran out of gear ratio..
[youtube]pCFQN5Q5ApU[/youtube]
10S run, with pedaling. Can still pedal at 28mph.
[youtube]ZIRwUgPKdrY[/youtube]
Showing off the excellent freewheeling of the MAC motor. It freewheels better than any geared motor i've seen.
[youtube]JM_rX-toEI4[/youtube]