amberwolf said:

If it happens, and you reverse-pedal, does it stop? (that should, if it's PAS-triggered, and no throttle signal is present, "instantly" cease any PAS-caused throttle signal output).
I'll need to check on that. For now, after re-reading the unofficial ES user guide, I made an adjustment to the throttle input thresholds, since it specifically calls out auto-cruise and PAS issues that can be related to those settings. If it still happens, I'll turn off PAS in the setup to see if that eliminates the issue; then troubleshoot the PAS setting if it doesn't.
I had a runaway bike incident while doing my maintenance. I accidentally touch the throttle, and the bike bolted across the yard and flipped over, breaking my handlebar on/off switch cluster in the process. I fabricated a switch holder out of ABS and hot glued it to the side of the Grin digital aux switches. I need to clean up some of the excess hot glue, then I'll wrap the switch holder with carbon fiber wrap. I'll make another switch plate out of ABS to mount behind/in front of my CA where I'll relocate my lighting switch and my analog CA input potentiometer.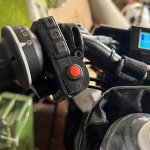 EDIT: Not my best work. Looks a little bit better in real life, but I'm going to have to redo it, after it bugs me some more.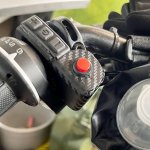 I replaced my derailleur this morning. The bent up 30 year old Deore LX was falling apart, so I replaced it will a cheapo Shimano Altus that feels like a boat anchor, but functions so much better than the old broken down unit, at least judging by a quick lap around the block. I'll do a more thorough test and fine tune the alignment when I go out for a test ride this afternoon.
EDIT: Changing the threshold seemed to improve things, but not completely. It may be just wishful thinking. The issue popped up again after about 2 hours of riding. Up until then things were fine. Similar to the other times, the power level stayed around 280W-300W and after a few seconds, it would drop to zero. I tried to tap the brake cutoff to see if that would stop the behavior, but I couldn't tell for sure if the power continued to flow right after tapping the cutoff, or if it was just dropping to zero. When it happens when I'm using throttle, it's after I let off and watts go to zero. I could be coasting quite a ways, approaching a stop, when it will jump up to ~280W and stay there for a random period before dropping to zero.
I'm also trying to see if bumps trigger it dropping to zero or not. I don't have a consistent feel for that yet. I forgot to try the pedal backwards thing, so I'll try that tomorrow.
On the cruise control, I still need to lower the voltage variation setting to keep it from triggering when I don't want to, even with the long delay. Since I'm using the power throttle, it set itself to 1000W, even though I was manipulating the throttle. Not as scary as full throttle, but still more than enough to get to 27mph-28mph. I'm afraid of trying the speed throttle with autocruise, or just afraid of trying the speed throttle at all without some more research. If the throttle ramping still applies, I might be willing to try it with my power turned way down.
The new derailleur is huge compared to my old one. And triple the weight is my guess. It shifts smoothly and feels great. I need to shift it through it's range a few times when I go out next to get any stretch out of the cable. I was making minor adjustments during my ride, but since I don't shift or only use 2 gears, the cable isn't getting much action.
With that change, the only thing left from my original build are the cranks and bottom bracket. Everything else has been swapped out and upgraded from the original economy build. Once I upgrade to the torque sensing bottom bracket, all parts will have been replaced. What's nice is that it's now just about perfectly dialed in to what I want, even though I didn't really know what I wanted in the beginning. The learn and upgrade as I go along philosophy has really helped, since the original investment was very small, and could be considered tuition, but every upgrade was targeted to get a certain result. I could still put all of the parts of the original kit on a bike and be riding it the same day, so I didn't lose anything. Sure, I still want a full suspension build, but I really need a good rack if the bike is going have any other function besides riding. I'm not a backpack kind of guy either. I think the last upgrade, probably far into the future, will be to build a 21700 cell battery with as many cells as I can fit in the triangle; probably 20S5P and something around 25Ah with 60A+ output. I may skip the BMS if I need the space to get any extra group in, and just have balance leads to monitor and manually balance if it's ever necessary. I will parallel that with 20S 5Ah of 45C lipos for extra boost current.