Oh no, there I go again. Here is the donor bike as it rolled out the door of walmart.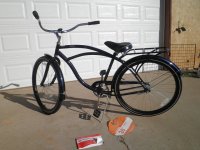 And again, now adjusted so it fits me. Beach Cruisers are the only bike shaped objects that fit me. Other walmart BSO's always too small.
The color is midnight blue, I won't be matching it perfect when I paint, but a dark blue should be close enough for the lengthening iron. Steel frame of course. Crazy stiff with the two tubes along the top tube. This wont' be a tail wagger bike. It weighs about 38 pounds.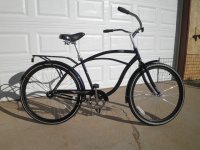 The best feature of the donor bike is the welded on rear rack. Dutch style. Solid and strong. It will be easy to add another curved tube support from behind the axle to the rack. The curve will try to mirror the curve of the existing top rear stay.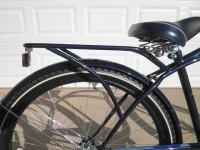 BTW, for once in my life, I'm actually trying to make a passably pretty ebike. Not a stitched up frankenbike.
Motor is the E-bikekit heavy duty model. 28mm 6x9 winding dd motor (9c like) 22 amps controller, 48v 13 ah allcell battery. About 21-22 mph top speed, able to climb to 10% grades with ease if you pedal some, and total weight is under 300 pounds.
The final touch, a wood deck.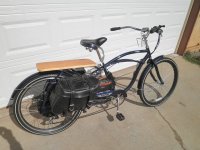 Ok, not quite the final touch. Now it's got a front disc brake, so dual disc.
View attachment 6