Administrator
Staff member
Joined

Aug 17, 2009
Messages

36,833
RoseArk said:

Oh I like the clamping torque arms! What are / where do I find those brackets that the clamp bolts run through? I don't know that I have seen something like that before.
They are used to clamp steel cables (like dog tie outs, pole guy wires, etc) together after looping them around something. Sometimes they are called "wire rope clamps"; this is a randomly found amazon link for the type of thing:
https://www.amazon.com/Cable-Clamps-U-Bolts-Galvanized-Clips/dp/B07CRW455Y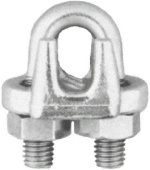 You'll use only four of the cast parts, and maybe the nuts/washers, not the u-bolt. You'll get a piece of threaded rod and cut four pieces out of it of the length desired if you want to use the existing nuts/washers, or better is to get some good bolts, nuts, flatwashers, and lockwashers (four complete sets).
If your plates are steel, you can also weld a bolt-stop (steel cylinder just big enough for the bolt's diameter) and a thread-receptacle (stack of nuts, etc) to the end of the plate like this:
https://endless-sphere.com/forums/viewtopic.php?p=1737530#p1737530
But the cable clamps work, and require no modifications to use.
I used the welded-on solution because my dropouts are vertical, and I didn't want to risk ever having an issue of loosening hardware causing the clamps to fall off somewhere during a ride (unlikely, but if it can go wrong, it'll probably happen to me, so I try to pick a solution that fails in a way I can recover from :lol: ).