Joined

Dec 21, 2007
Messages

12,935
Location
For info on the history of the development of this drive, here is the original thread:
"LightningRods mid drive kit"
http://endless-sphere.com/forums/viewtopic.php?f=28&t=57720
I write for electricbike.com, and when I explained to the senior editor why this new drive was so great (IMHO), he bought me the first production unit. It was partially so we could test review it, but since I don't get a paycheck for writing, this is also an occasional perk (Thanks, Eric!).
The package was well-packed, so the parts arrived without any being bent, scratched, dinged, or broken.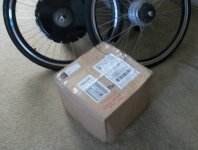 The first order of business is to start the search for a local bike that is worthy of this drive, so I am using a common 8 X 11 manila folder as the template.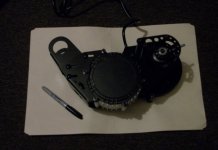 This particular fork only has about 4 inches of travel, but it still looks like I'll be fine to do some experiments with this one while I search for the "perfect" frame. I'll post dimensions for a template for those who want to see if it will fit their favorite frame before committing to buying the kit.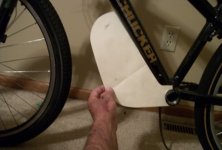 I'll add the dimensions tomorrow (*yawn...)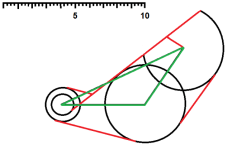 I think the easiest way to make this template is to start with drawing the green triangle. The three points of the triangle are the centers of the BB, the motor, and the jackshaft. The horizontal line is 5-3/4 inches (146 mm), the short vertical line on the right is 4-3/4 inches (121 mm), and the long line is 9-3/8 inches (238 mm).
Next draw the four black circles. The motor and jackshaft pulley are both 5-3/4 diameter. Half the diameter is the radius, 2-7/8 inches. (diameter 146 mm, radius 73 mm). The two circles for the BB are the inside diameter of the hole and the outside diameter of the bracket. the ID is 1-5/8 inches (41mm), and the OD is 2-1/4 inches (58 mm).
Now to draw the red lines. I laid the long edge of an envelope on the vertical green line on the right, in order to make a 90-degree angle. Then I drew the short red line pointing to 10:00 O'Clock from the center of the jackshaft. Draw it out a length of 1-3/8 inch long (35 mm).
Get a straight-edge at least a foot long and draw the long red line by connecting the edge of the circle that defines the BB ID, and that mark you made on the red line that makes it.
Draw the two red lines near the bottom that connect the big circles, and the short red line that is above the BB is parallel with the red line below it. Cut out the outer shape, and then cut the template BB in half so you can hold the template up to the front half of a bikes BB