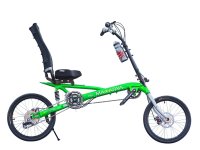 I've decided to take a chance on a Maxarya Ray 2 because i want a secondary low power semi recumbent bike for mountain riding.
I've confirmed that the bike takes at least 20 x 2.4" tires on both sides, so it should have no problem taking the light motorcycle tires ( hutchinson spherus ) i plan to outfit it with.
There's almost no reviews on this bike. Out of 6 American dealers, only one company picked up the phone and still exists. So i don't even know if it is a good bike for certain! However, Maxarya is the only company making a bike like this today. So this thread will start out as more of a bicycle review and then a build thread.